Become a Community Champion and help keep COVID-19 out of Merton
Do you want to help stop the spread of COVID-19 by sharing clear and consistent messages? Register to become a COVID-19 Community Champion!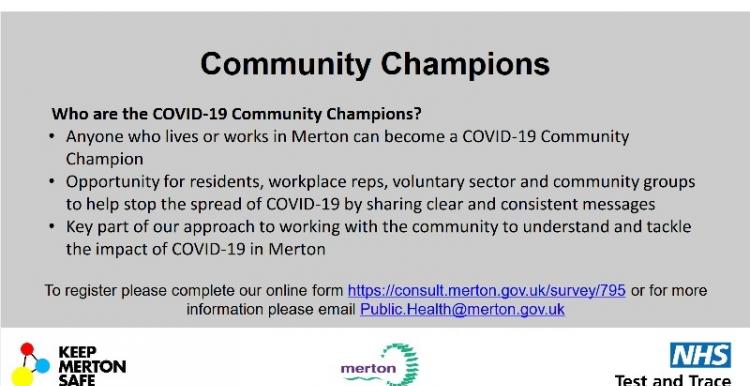 Merton Council's Public Health team will provide Champions with the latest campaign materials on COVID 19 and Champions will share this information with their friends, family and communities through appropriate communication channels. Champions can feedback what is and isn't working and their ideas for future engagement. Anyone who lives or works in Merton can become a COVID 19 Community Champion. Register here: https://consult.merton.gov.uk/survey/795 to become a Champion or email Public.Health@merton.gov.uk for more information. The virtual weekly drop in meetings will take place every Wednesday lunchtime from 12pm to 1pm and in the evening from 7pm to 8pm (starting 23rd of September).