Healthwatch Merton Annual report 2019-2020
Our 2019/20 Annual Report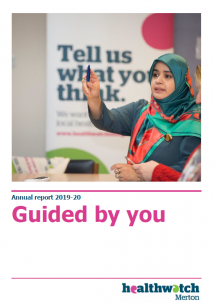 We would like to thank everyone who helped us to put people at the heart of health and social care. We would not be able do our work without local people sharing their views with our staff team and volunteers.
We are very grateful for support from voluntary and community organisations and staff working in local health and care services who helped us arrange to speak to the people they support; and managers and decision makers who have often helped us make sure this happens and have encouraged our feedback.
Thank you! 
Did you know...
We spoke to 561 people in Merton.

We helped over 123 people navigate the health and social care system and get the information they needed.

4,488 engaged with us through using our website to find the advice and information they need, through social media, E-bulletins, sessions and with us at community events.